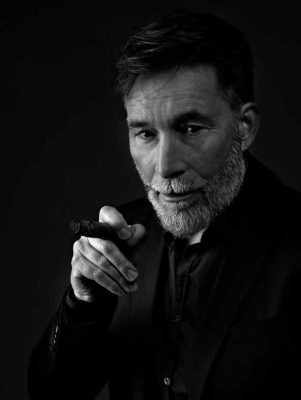 Die Marke Laura Chavin wurde im Jahr 1992von Helmut Bührle im schwäbischen Hochdorf gegründet, mit dem Anspruch die besten Cigarren der Welt zu kreieren.
2017 übernahm Willi Knopf das Betriebsvermögen und später die Markenrechte der "Laura Chavin Cigars GmbH". Mit seiner Cigar Company verlegte er den Firmensitz nach Dielheim, einer ehemaligen Zigarrenhochburg, die gleichzeitig sein Geburtsort ist.
Geblieben ist der Anspruch Cigarren höchster Qualität zu fertigen.
Mit der Edition 2019 wurde diese Philosophie in einer neuen Epoche der Marke Laura Chavin
zum Leben erweckt, die Kenner gleichermaßen überrascht und begeistert.
Gefertigt werden die Premium-Cigarren in der Dominikanischen Republik bei unserem Exklusivpartner Günther Schichl mit dem wir neue Maßstäbe für den Anbau von Premiumtabaken setzen und unsere hohen Qualitätsansprüche in der Verarbeitung verwirklichen können.
Entdecken Sie die neue Welt von Laura Chavin online und im deutschen Tabakfachhandel.
About Us
The Laura Chavin brand was founded by Helmut Bührle in the Swabian town of Hochdorf in 1992 with the effort of creating the best cigars in the world.
In 2017 Willi Knopf took over the business assets and later the trademark rights of "Laura Chavin Cigars GmbH". With his Cigar Company, he moved the company headquarters to Dielheim, a former cigar stronghold that is also his birthplace.
The claim to manufacture cigars of the highest quality has remained.
The "Edition 2019" is the result of putting this philosophy to work in a new era for the Laura Chavin brand,
designed to amaze and inspire connoisseurs alike.
The premium cigars are made in the Dominican Republic by our exclusive partner Günther Schichel, with whom we set new standards for the cultivation of premium tobacco and realize our high quality standards in processing.
Discover the new world of Laura Chavin online and in Germanys tobacco shops.